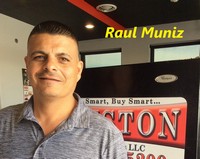 Sarah Turner 9/25/2020
Talk about above and beyond! I recently purchased a 2017 Nissan Rogue. I got it at a great price and left feeling amazing. The entire process was easy and painless. Today after 30 days my battery died. Raul (who helped me purchase the car) ran to my rescue. Installed a brand new battery! My wife and I have both bought our cars with Raul and will forever continue too. Working with Raul we are put at ease no gimmicks, no hustling. Just pure genuine kindness and care. At any point if we need anything he is there to help. No questions asked. You can tell he takes great pride in his work and will only let you purchase a vehicle that he knows is safe, reliable, and a good deal. He treats you like family. Anytime we stop by Houston wholesale everyone is so kind and you are greeted with a smile and happiness. Thank you Raul and everyone at Houston for taking such pride in the happiness and safety of your customers! You have lifetime customers ??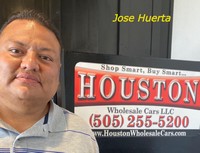 John & Sarah DeBaca 9/21/2020
My husband and I were truck shopping and came across one we were interested in. They were closed, but as we were looking Jose Huetra saw us, turned around and let us look. We purchased that vehicle the following Monday. Jose was very courtious and very helpful throughout the entire transition, I would definately recommend purchasing your next vehicle from Houston Wholesale Cars and from Jose, he's your go to guy.

Melissa Acosta 9/8/2020
Jose Huerta was more then helpful. I called him on Monday and told him I was interested in a specific car. I told him I was 7 hours away and in another state. We were able to make a deal within 2 hours time and I had my new car that following Saturday. He is extreme professional, knowledgeable and most importantly, I appreciate his honestly. Like I told him, this is only the beginning of many future purchases at Houston Wholesale.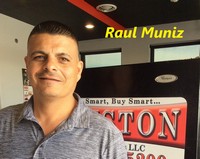 Darrell Tidwell 8/12/2020
I was having issues with my vehicle that was purchased from Houston Wholesale. The air conditioner was not working correctly and appeared to be an elusive electric issue. I contacted Houston Wholesale and spoke with Raul. Raul informed me that my vehicle was under warranty through Kia, and that he would take it to Kia on my behalf. Raul could have easily told me to go to Kia myself and save himself the time and work, but he went above and beyond to make sure my vehicle was taken care of by Kia. Unfortunately, it took several trips to Kia to repair the vehicle, at no fault of Houston Wholesale, but Raul took it upon himself to return the vehicle to Kia and make sure the vehicle was fixed. Raul made it his personal goal to make sure the vehicle was fixed, and that I was provided a loaner vehicle. The level of customer service that was offered at Houston Wholesale should be what every dealership should strive to match.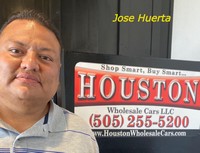 Jessica Zeilman 8/12/2020
Jose was amazing! I spent two months looking up the make and model I wanted to buy and price shopped dealers in Albuquerque and in Las Vegas, Nevada. Houston Wholesale, hands down, always had the lowest price for a comparable model.. The buying process was seamless. No pressure, honest, up-front information every step of the way, and he worked hard with my credit union to get my loan paperwork completed quickly.. I am a teacher and I was unable to go down to the dealership to test drive the car I wanted so he brought it to my house! Super helpful and friendly. I picked up my new car clean and with a fresh oil change thanks to Jose. I called in about the car at 10:00 am and parked it in my garage at 5:15pm the same day. Thanks Jose! I will definitely be a repeat customer.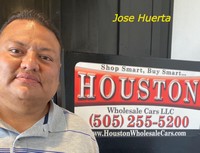 U. Mathis 8/8/2020
Jose Huerta worked with me on a vehicle I was interested in. The purchase fell through because I couldn't make it to HW soon enough. My interaction with Jose only spanned over a few days. But in spite of this short amount of time, it was very obvious that he is a no-nonsense, caring and honest man. No pressure to buy anything, no pushy sales tactics at all. I checked out similar cars at another dealership and the experience was quite different. Glad I had it though, because I realized the original car was too big for me. Another, smaller car became available at WH and I called Jose again. I told him that I was glad the other car fell through and why. Jose just said something to the effect that God knew what he was doing. He definitely had me then. Well, I was fast enough for this one and bought it. Jose made everything just smooth despite the fact that he had to balance multiple customers at the same time. Can't imagine he didn't feel a bit of stress, but he didn't let on. Just maintained his calm and professionalism. Anybody in the market for a used car should check out Houston Wholesale. Check out their website and call Jose. He will take good care of you.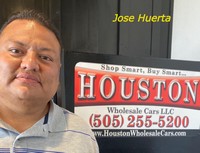 Kevin Anderson 7/17/2020
I had been searching for a van for a week or so when I came across an ad for one at Houston Wholesalers. It was exactly what I wanted in a price range I could afford. I was sent to Jose to answer my questions. Jose turned out to be very knowledgeable about both the van and the sales process. He patiently guided me through every step, answering all my questions, and most importantly, staying in touch. Jose helped make the buying process easy, never trying to pressure me into purchasing something I wasn't interested in, but also making sure I understood the purpose of each additional item and answering my questions honestly. Buying a car can be a long process, but Jose kept me well informed at each step. I was very impressed by his manner and experience. It was nice to hear "Don't worry, this isn't a problem" when a bump appeared. He listened to my concerns and addressed each of them professionally. I was also very impressed in the way management dealt with me. They addressed me personally instead of hiding in an office, and they gave the impression that they backed Jose and had my interests in mind as well. The van I chose was a recent purchase by Houston and was not ready to be added to their sales inventory, there were some repairs that needed to be made. Even though I had purchased the van, Jose and the management went above and beyond assuring me all the necessary repairs would still be completed and as quickly as possible. I was extremely impressed! Jose and the team at Houston have done everything required to make sure I was not just satisfied, but impressed! This is the first time I've walked away from a car dealership not feeling like I'd somehow been taken advantage of. Jose and everyone at Houston has my sincerest appreciation and respect.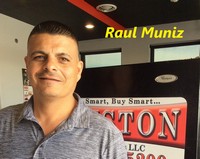 Janet Lucero 6/27/2020
We needed to purchase a new car for our daughter, we had visited several car dealerships and the prices were not in our range for the quality of vehicle that we needed. We ended up at Houston and we looked around without being bothered by a salesperson. We found a great vehicle at the right price with the right amount of miles that worked for us. We were helped by Raul who took care of all the paperwork. I just want folks to know that when it comes or buying a used car that Raul and the team at Houston are there to sell you a quality beautiful new car at the right price. We will be returning to this dealer for our next vehicle!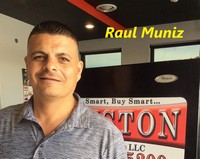 Angélica Desantiago 5/27/2020
Mi hermano y una amiga nos recomendaron mucho Houston auto sales y ya hemos comprado dos trocas con ellos, nos gusta porque tienen autos en excelente condición y el trato y la atención que recibimos de Raúl fue excelente también. Yo los recomiendo mucho. Translation --> My brother and a friend highly recommended Houston auto sales and we have already bought two trucks with them, we like it because they have cars in excellent condition and the treatment and attention we received from Raúl was excellent too. I highly recommend them.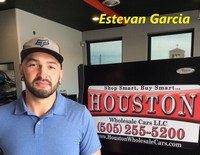 Sonia Taminich 5/15/2020
I wasn't rushed into a car I didn't like and I've been through that before ??. My two salesmen were very helpful to me! I got into a great car at a wonderful price! I definitely have been telling others about them as I was referred as well. They didn't hesitate to get me anything I needed and they even filled up the tank before I left! Thank you so much to the team, I felt really comfortable purchasing a beautiful new car from Houston Wholesale!!!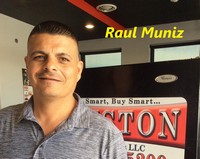 Celia Vasquez 5/5/2020
Mucho muy contenta con mi carro muy buen servicio al cliente Raul Muniz y todo el equipo muy atentos y Profecionales me ayudaron en todo Gary Padilla como siempre dandome los mejores precios. Translation --> Very happy with my car, very good customer service, Raul Muniz and the entire team, very attentive and professional, helped me throughout Gary Padilla as always, giving me the best prices.

Madeline Dick 12/22/2017
My experience with Houston was outstanding. A good friend recommended them to me, and I could not be more pleased with their service. Scott helped me find a car I love that is best for me and my budget. They went above and beyond for me and my boyfriend. They have a great selection at great costs. No pressure or tricks. Everyone is friendly and accommodating. If you're looking for a great vehicle, you will not be disappointed going with Houston Wholesale. Thank you, Scott!

Chris Cavaness 1/24/2017
Not only did they go around the block and through hoops for me they even took time out of their day to make sure I was happy! This is not some Giant Cooperate car dealership this is a close to home "gunna take care of everybody" place. I have never in my life been take care of in a dealership like this. They where slammed and still managed to cater my every need! If you want real people real prices and a real deal you come here. If I ever want to get another car i know where I am going.

Anita Sanchez 12/7/2016
I've been a customer of Houston Wholesale cars for over 10 years and I'm still in love with this dealership! I recommend them to everyone I know, and here's why...they honestly care about their customers, they have the best cars at the best price and they always have taken care of me! I cannot tell you how much I appreciate their customer service. Recently someone threw a brick over the overpass while driving on the freeway and shattered my windshield, I got off the freeway and the closest auto glass shop was Horizon auto glass. I went to Horizon, they charged me $250 dollars and 5 hours later I had the worst windshield job that I've ever seen! I was so upset I couldn't even deal with them so I drove to Houston Wholesale cars and told them what happened. Even though Houston had nothing to do with this awful job, Gary ordered new and correct parts for my windshield, gave me a loaner vehicle so I could get back to work, they fixed it right away at no charge and the quality is amazing! I really cannot say enough! I highly recommend Houston Wholesale Cars to everyone I care about!